Difficulty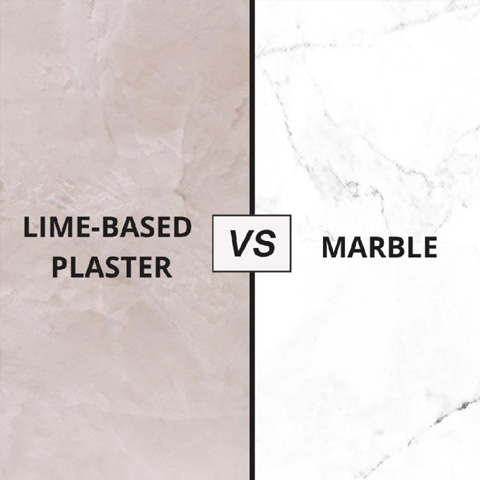 It's glaringly obvious that marble is unique material that can instantly create a sense of elegance in a space. Marble, undeniably a favourite material among interior designers for their designing works. This material is especially fond by them in residential renovation projects. While it's true that marble is sophisticated to bring an element of nature into your home, unfortunately marble is not cheap.
'Marble is extremely expensive' This is not an assumption but is a real fact. Luxury is never cheap, and marble is the epitome of luxury. Luxury is expensive and the price can literally break the bank.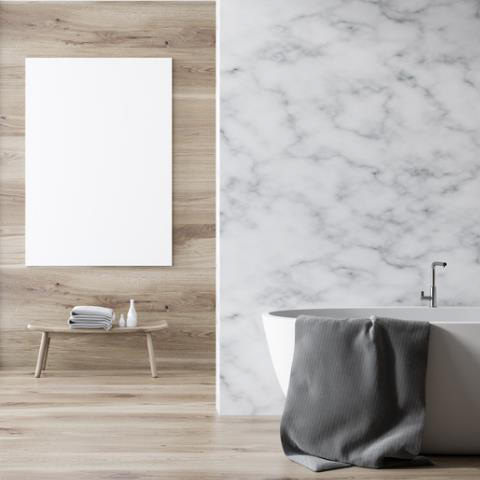 Like every natural stone, marble breaks down over time, and if you're not cautious about its upkeep and maintenance, you may end up expediting the breaking down process.
Decorative lime-based plaster that can bring Marble-gloss like appearance
Since the time of Renaissance, marble effect can be achieved with Macoavell lime plaster – sometimes be referred to as Venetian plaster and Marmorino. The finish is very natural and cold to touch with, with the layers giving depth and movement.
While the subtle veining of marble makes for a completely unique floor, a compatible glossy look can be achieved by decorative plaster the affordable way. Even though we will be able to tell the difference, lime-based plaster can create a look that is quite luxury as well – especially if trained painters have paid attention to the application of patterns and colour.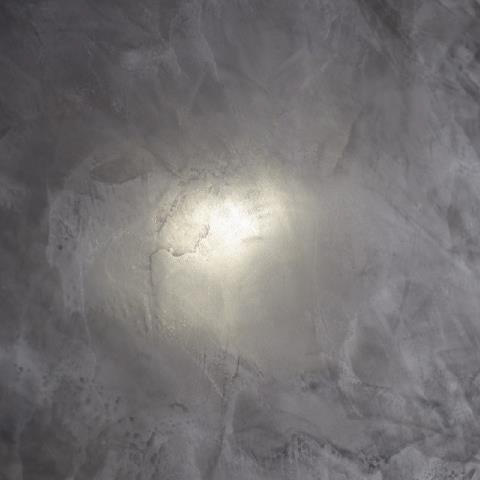 As an alternative, our lime plaster can up your home's ambience create
clean, bright look, as well as its inherent contemporary and luxuries look.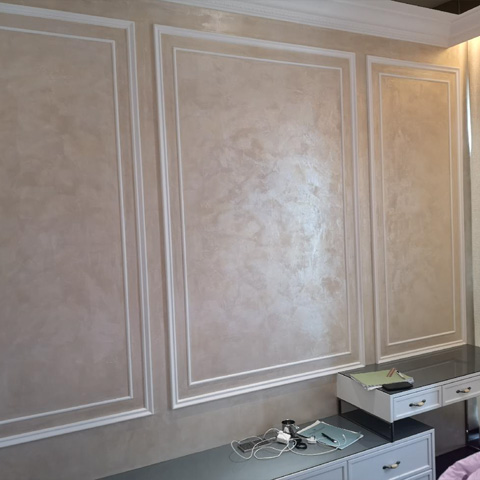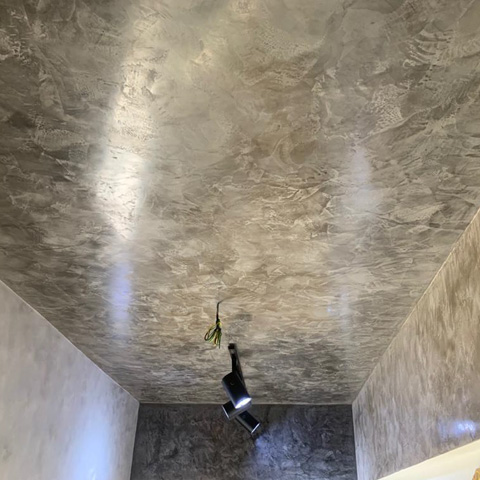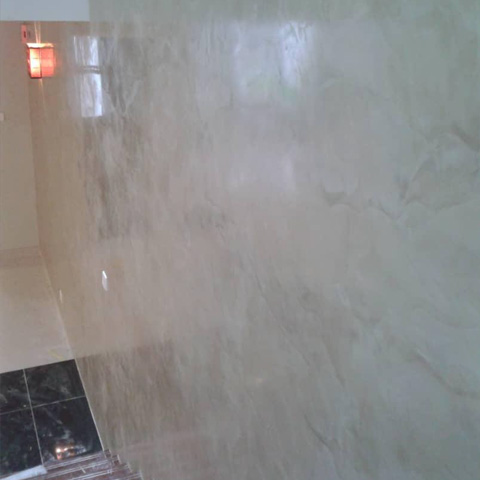 The material, after polishing, produces a smooth marble surface. Marmorino derives its name from the Italian term of "marmo" that has the
meaning of marble in Italy because it can be used to create spectacular "Marmorino" for marble unique sort of consistency with a glossy finish.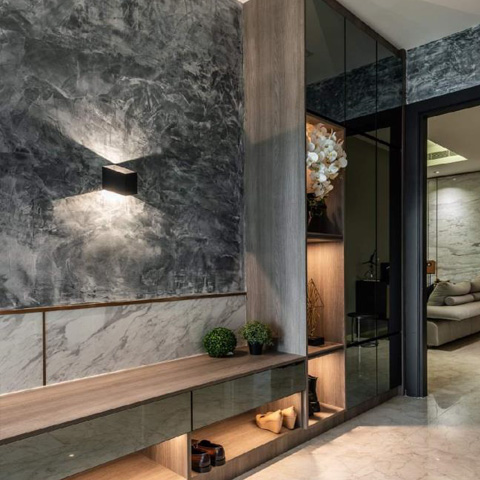 Unlike marble, Venetian plaster applications generally have a smaller contrast and less shadings. The surface of the Marmorino finish is a polished plaster finish that is glossy and reflective with lots of depth while maintaining a smooth feel of marble, with low VOC.
Thus, one biggest advantage to lime-based plaster is that they are considerably cheaper than marble. Even the price of marble has dropped substantially these years, but the average cost is still much higher than price of lime-based plaster. Realistically, it's one best choice for those who has tight budget in their makeover project but wish to have these marble effect wall to add impression of elegance and timelessness in their living space.
Another benefit of lime-based plaster over marble is durability. Lime plaster is incredibly durable compared to marble. Unlike marble, which will be degrading over time, plaster becomes harder and harder over time because the absorption of CO2 in the air. Slaked lime finishes age well, gaining in beauty and strength with time.
Macoavell Vellma : Venetian Marmorino plaster
In the Renaissance, builders of Venice were keen to enhanced lime
plaster to stimulate the look of marble so the building is light and won't sink under the mud. This technique is then be used all around Europe ever since. The final result is to create wall finish that has the visual depth and natural elegance of marble.
This, has caught the attention of Macoavell. With Macoavell continuous creativity and efforts in improving the technique of lime plaster, our company now offers variety of products including Macoavell Vellma that's is almost identical with Venetian plaster. Macoavell specialisation is the production and application of Marmorino as well as other lime-based products.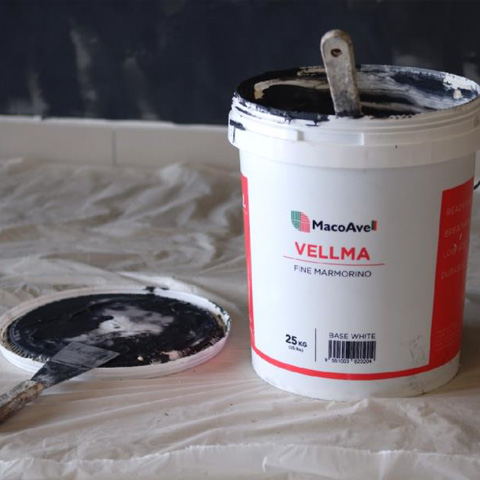 Macoavell Vellma is in a wide range of colours which make it easy to blend with any type of home decor. For more distinctive looks, you can even use two or more colours of Vellma to achieve the unique texture finish. Then, just simply polish it for maximum sheen and burnish again to give the true feeling of polished marble.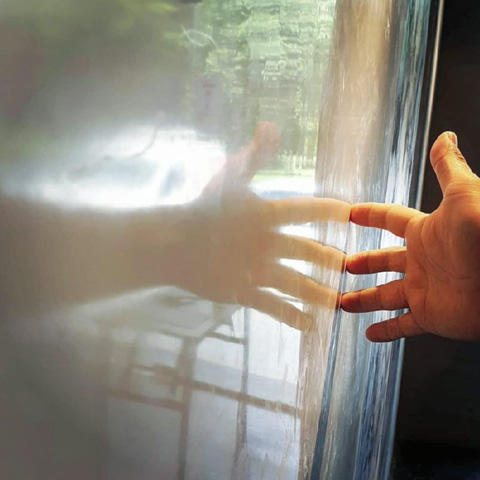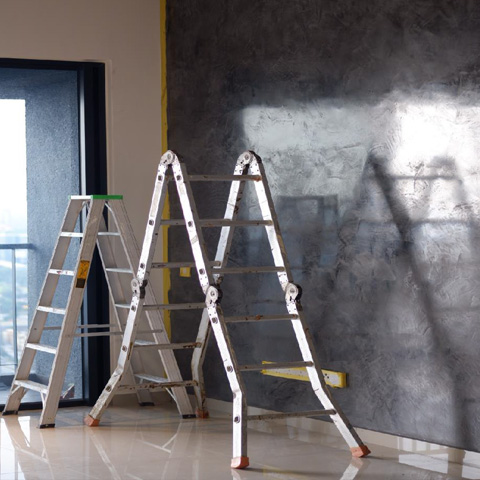 Therefore, before choosing marbles on any feature wall at your home, it
is definitely worth to take a look at what decorative lime plaster can produce. But, for those who is budget restraint, undoubtedly, they would opt for lime-based plaster for the elegant gloss effect. While marble is spectacularly beautiful, it might not be anyone's choice because of its high cost, difficult installation and delicate maintenance.